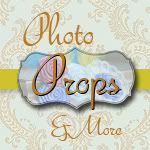 OK Mama's. If you are looking for the perfect accessories for a Holiday outfit for your child you want to check out
Photo Props and More
. I think sometimes the accessories make the outfit. Holiday pictures I like for all of the kids to match. I love to have a cute tie for my boys or when my daughter was little I wanted her to have the perfect hair bow, tutu , leggings whatever to make the outfit just right. You can find some super cute items here to deck out your holiday outfit or anytime. Boutique items at non boutique prices makes this a fun place to shop and find the perfect touch.
Photo Props and More sent the Zoo one adorable tie and I am super excited to get my guys photos taken with it! The black and white checkered pattern fits his personality perfectly. I really want to do some kind of racing theme photos with the tie because it reminds me of the flag they wave at the finish line when the race is over and my guy loves CARS. This elaborate photo idea would be why I have no photos to share as of yet. I will though.
I am super excited to tell you that Photo Props and More has given a great holiday package for our Christmas Event! So , be sure to stop back
December 9th for our Christmas Holiday Event and enter the giveaway!
You can find Photo Props and More here:
stop by and give them a visit and while your there
mention the Zoo sent you by!