I am so excited to bring you this review and giveaway. I love crafting with my child, painting, playing and having fun and
Faber-Castell
has tons of products that I'd love to fill my shopping cart with.
Creativity for Kids Kits
are the neatest . They come in tons of fun themes and each kit comes with everything you need to complete a project. Faber- Castell has a large selection for both boys and girls and I really love that. If you have more than one child the creativity kits work well because you can purchase them for individual taste and still have a craft day. Each child can have their own kit.
Faber-Castell's mission is to"
provide children with experiences that stimulate and encourage natural creativity "
. I think that statement sums it up. That is exactly the kind of experience I am trying to give my child .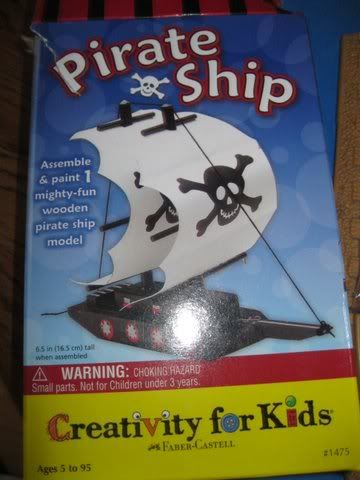 We recently tried out the
pirate ship kit
.
At a great price of only $5.99 this pirate ship or other kits will make a great stocking stuffer option ! I know this Mama wants to get the foam flier kit.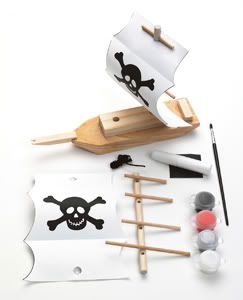 The kit comes with everything you need for your project. The pirate ship kit had the following:
wooden pirate ship model, paint, paint brush, varnish, glue, black string, sand paper and 2 paper sails.
This kit says for ages 5 and up , there are small pieces for children under 3.
C is almost 3 and we did the project together with no problem. The only thing I will say is the paint does not wash out of hair to well or it didn't for me. He painted his hair for some reason RED ugh and I ended up having to cut a section out . But its OK lucky for this Mama he has a ton of fast growing hair.
Here my guy is painting the ship model!
I let him mix the colors up and paint it however he would like. You can of course make it however you want to. As you can see he had a blast painting . He had such a great time painting his ship!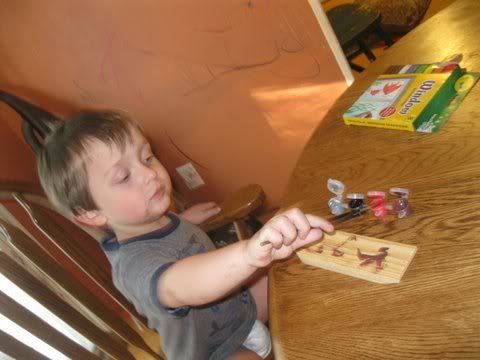 Here's my guy holding the pirate ship after it was all put together. He was so proud of his ship it was really cute. I really appreciated the simple to follow directions and ease of assembly. I am absolutely terrible at putting things together and I had no problem following each step to complete our ship. The only thing we did not add was the black string only because someone was to inpatient and wanted to play with his ship right then!
We also received the Monster Trucks Custom Shop (Arv $29.99)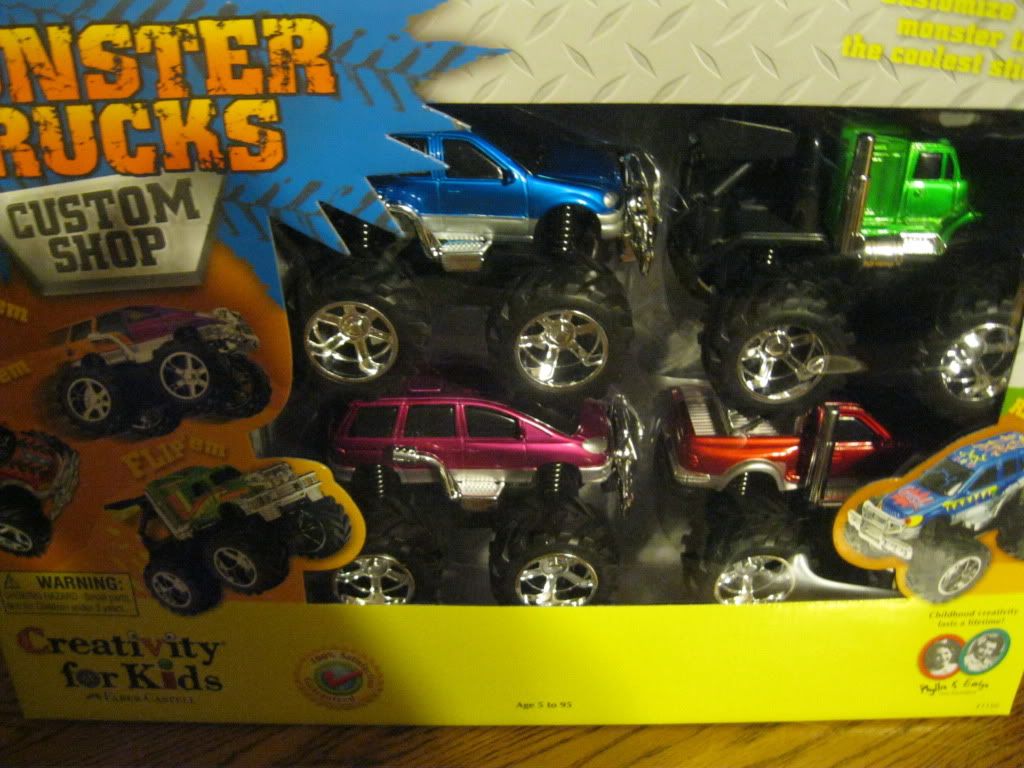 Customize your own fleet of awesome monster trucks. Four different trucks come ready to decorate with stickers and paint. Pull them back and watch them race, roll and flip.
You receive 4 large trucks (to the right), stickers and paint. I am thinking this would be a great present for that special nephew or friend. I was happy with the size of the trucks they were larger than what I expected to come in the kit. This kit says for age range 5-95 also. Again my child is 3 and he was able to do this kit with supervision and we had no hair mishap with this one !
I was super happy with both kits that I tried out. I would gladly give one as a gift or be thrilled to receive a kit also.
BUY:
visit Faber-Castell or find a store near you here
WIN: one lucky Zoo follower will win both kits that I shared today. The Monster Truck Custom Shop (Arv $29.99) and the Pirate Ship creativity kit (Arv 5.99). Just fill out the easy entry
rafflecopter form below to enter!
This contest has closed. Please visit our Winners Page!
Disclosure: I was provided with creativity kits for this review. These are my 100% my own opinions.
Thank You Faber-Castell for review and giveaway products!