Lets have a baby shower. A Dr. Seuss Baby Shower. We love all things Seuss and thought this would be a great way to celebrate the arrival of a new baby boy.

Dr. Seuss Baby Shower Theme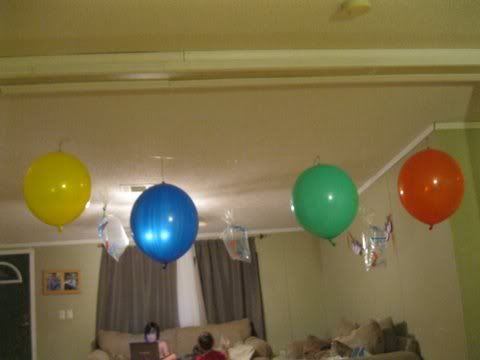 the decorations
I hung different colored punch balls from the ceiling.
Also in between them and scattered around fish bags with red Swedish fish hanging from fish line inside them for One Fish Two Fish.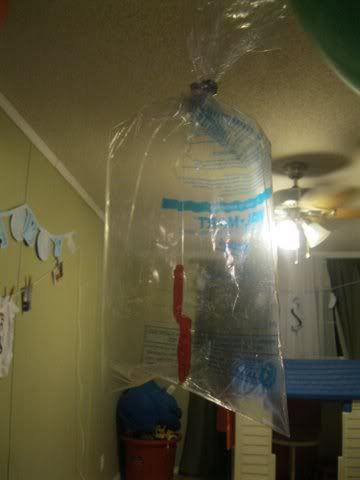 The fish really was one of my favorite parts. We had several different baby banner decorations hung around the different rooms. We put all of the gifts in our Little Tike's Playhouse as people came in. Really it was just to big to move out of the room, but I think it worked well for the Seuss them too. We then hung some of the adorable signs from
Doodle Monkey Printable
around it!
For an activity I had a basket full of onsies and iron on sayings etc, and fabric markers for each guest to make Kyler a onsie. This was my favorite part of the shower.
We hung a clothes line on one wall with the Dr.Seuss onsie we received from
My Cow Dazy
and various maternity photos. As guest made their onsies we hung them on the clothes line. This was also a great place to hang up gift cards that we wanted to make sure were not lost in the present house.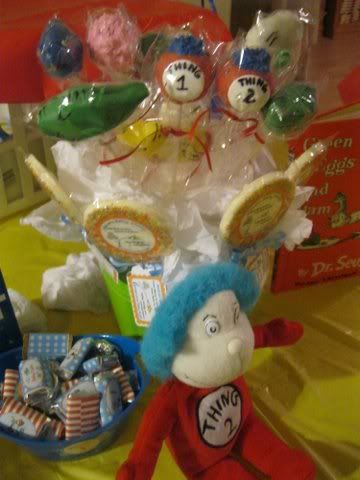 We had a Seuss cake pop bouquet from the
Cake
Pop Shoppe
and also personalized pops from
Serena's Party Boutique
.
Miniature personalized candy bars made from printable from
Doodle Monkey
were also on the table.
Horton Hears a Who Cupcakes
topped with pink cotton candy ~ warning the cotton candy melts quickly and losses the fluffiness.
We had the perfect Seuss It's a boy banner from
Elegant Evees.
We had three tables set up all with different colored cloths to match the hanging punch balls. Then we had mix and match colored cups, plates, napkins and silverware. We had a cake and cupcakes with edible cake toppers from
Sweet'n Treats
. We also had Dr.
Seuss stuffed animals sitting around in various places.
We also had thing one and thing two cupcakes topped with blue cotton candy.
I made punch (recipe shared soon) and added rubber ducks. This punch is Fantastic! Under the punch bowl we had the personalized chocolate covered oreos from
Serena's Party Boutique.
The Water bottles had adorable Welcome Baby Kyler labels on them thanks to
Doodle Monkey Printable
. Everything really came together so well.
In addition to making onsies we played guess moms belly size and everyone pulled off a piece of tape to measure around the belly.
For food we had green eggs (deviled eggs) and ham with rolls, a fruit tray, a cheese tray, Swedish fish, a veggie tray, chips and dip, spicy Mexican dip and chips and all of the yummy sweets mentioned above!
The party was a great big success and baby K got so many gifts.
He is a very loved little man already.
Thanks to the many AWESOME businesses who made this one spectacular Seuss shower.
Everyone left talking about how much fun and cute everything was!
The punch was a fun baby blue color with rubber ducks floating in it. It was delicious and so very cute. I'll share the recipe soon.