30 Day Play Challenge ~
We decided to participate in the 30 day Play challenge and so far so good. I feel like I've learned some new things about my little one on this adventure and that is always good. Things have been crazy here and there and everywhere for us so I haven't had time to post each challenge daily. So, I thought I'd combine a few.
Challenge 1
~ was to make a mission statement and you can find mine
here
Challenge 2 ~ Build a Fort
...find ours
here
Challenge 3~ Building with Blocks
Dump out your blocks and just build.
As you can see from the pile of blocks in that picture we just combine all of our blocks in a couple of buckets.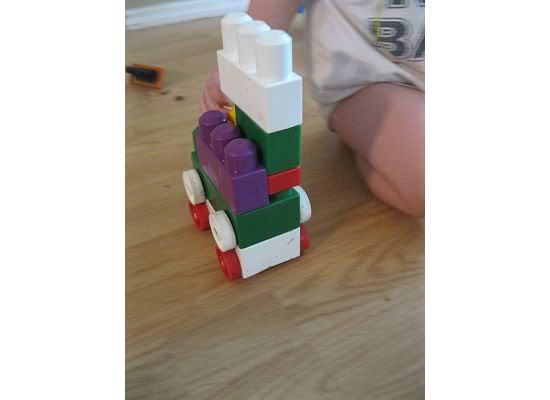 Well our first try at this I was thinking I know why I put these darn things away. He throws them all over the place and every time I get something built he knocks it down (ha) . Well that's suppose to be fun right.
Nana came by for a visit while we were playing and Mr. Man decided to leave me to the block building and go home with her. So, there I was to pick up that huge pile of blocks. I did notice while we were playing that he didn't like the mega blocks as much as he liked the
square wooden ones
. So, not a total failure and we did play. Although he does like the little car blocks like in the photo above.
Now, here is the great part of this challenge. The next day he got his blocks back out and dumped them out came got me by the hand and said mommy play. From there he stacked the wooden blocks and would put little robot people we have on top like he had saw me do the day before and we played and played. Yay, can you say
success
after all. We were both smiling from ear to ear and I was so happy I pulled the blocks back out.
Challenge 4~ Making Islands
for this challenge I threw the couch pillows all on the floor and tried to get him to jump from pillow to pillow but he didn't seem to get into this. I was really surprised
because he is very physical. I then tried colored tape x's and again a no go. He just was not having this one. So, we went outside and played golf instead and he was all about that. Daddy got him a new driver...yay for daddy.
Challenge 5 ~ Playing with playdough
For this challenge I made red and green apple pie spice playdough. My kitchen smelled so yummy, I sure was wishing I had some pie to go with the play. I laid out cookie cutters, scissors and all sorts of fun materials to play with and set out to have some fun. We have actually tried this several times over I can not believe I have a child that doesn't like playdough. My oldest daughter will still sit and play with it, which is what happened here too. Little boy just doesn't care for it he doesn't seem to like the feel of it because he does not even try to throw it.
Challenge 6~ Family Time
We spend a lot of time together as a family. We're not however always paying attention, or doing the same activity. We may all be in the same room doing 5 different things.
Even when we go places together the older kids have their own agendas they are teenagers after all and the big roller coaster is probably a lot more fun that the toddler ball pit. You know what I mean. Tonight I announced everyone get ready its family together time in just a few minutes.
The responses were pretty funny. Big Brother and Dad were playing the PlayStation at the time and said "YOUR not serious" and I'm like yep I'm serious. Big Sister came in but she wasn't overly thrilled at first. I set the timer and announced come on guys C will love having us all playing together and you can all do anything for 15 minutes.
I decided we would pull out bean bag toss and bean bag toss we did. We tossed bags at each other and my little guy loved climbing into the bean bag game and jumping up when someone threw a bag at it . Totally reminded me of Robin Hood when they are having the bow and arrow contest and they jump up to make Robin miss the target.
Having the entire family playing made for a lot of turns which was great in "sharing" . Of course Dad was the best of the bean bag tossers. Little Brother wanted to play by his own rules. Not exactly sure what he was thinking because he can actually play this one correctly and does quite well. He wanted to walk up very close and just stick the bag in the hole.
We had some great family time with no TV, no video games, electronics, music, or distractions . Only family spending time together !
Thanks for the challenge !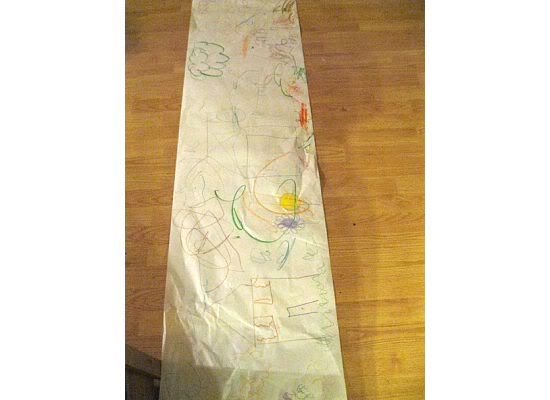 Challenge 7~ Mega Art
This we just did easy peasy common coloring on great big paper and he loved it. We used markers and crayons and I did a lot of the drawing the wonderful artist I am ..cough. It was interesting to see his response to my drawings. He was also pretty stingy with the crayons and markers. It was interesting to see which materials he allowed mommy to use. Little turkey !
Can you believe it one week of challenges down and week 2 is well under way so stay tuned for some more great fun !
Play time its amazing what you learn from your children. Mine teach me every single day.