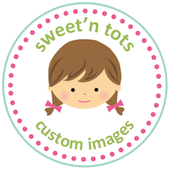 I am happy to share with you
Sweet'n Treats
newest product
Sweet'n Tots
.
Sweet'n Tots
are custom illustrations of your little ones where you can create an image to look just like your child! Start with building a basic Sweet'n Tot and then finish your design with accessories to match your child's personality. You can even add their name and a decorative border to make a custom design.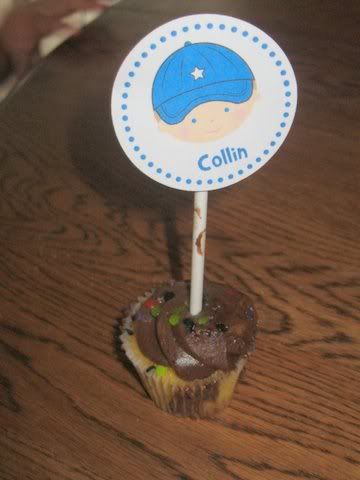 Here is my Sweet'n Tot on a mini cupcake I made. Aren't they cute! I think these are perfect for First Birthdays, playgroup parties, and so much more. You can make all kinds of fun personalized items with these images. Your Sweet'n Tot is available in
edible image
cupcake or cake toppers. These are so easy to apply and make your homemade cake look like it came from the bakery. I
LOVE
the edible images.
~
Digital Artwork
is also an option. You can add a scene to your image such as a baseball field or other. Great for personalizing for an event.
Printable
~ are the perfect option if you want to do DIY projects. You can make your own cupcake toppers like mine to the left, party tags, and stickers and so much more. The possibilities are certainly endless. With the printable option you receive a formatted PDF file. Then you can print as many as you like from that file.
Stationary
~ the stationary option puts your Sweet'n Tot on paper products. Stickers, labels, note cards, favor tags, cupcake toppers and many more options coming soon.
I found designing my sweet'n tot to be very easy , very user friendly and very fast. I was happy with the entire process. You choose hair color, eye color, etc. and in moments you have designed your tot and are ready to pick out your party items. I think our cupcake toppers were super cute and they were a big hit with the other playgroup Mamas.
Sweet'n Tots is getting ready for the Holidays and helping you out by lowering prices. They have lowered the price of the digital artwork for the season. They are also in the final stages of setting up more prints and personalized gifts. If you have something in mind and don't see it be sure and send a message.
WIN: one lucky Zoo follower will win a $25 Gift Certificate for Sweet'n Tots
Just fill out the easy rafflecopter form below to be entered in the giveaway.
This Contest is now closed. Please visit our Zoo Winners Page!
Disclosure: Living at the Whitehead's Zoo was given a pack of Sweet'n Tots lollipop cupcake toppers and 2 digital images for this review. These are 100% our own opinions on this product. Thank You Sweet'n Tots for our review items and giveaway gift certificate.