Hello everyone! My name is Jackie, and I'm usually posting a weekly project over at
I Design
.
This is me:
Come by and visit my
blog
sometime, it's full of fun tutorials (mostly baking and home design).
Today I'll be sharing the steps I took to make a nautical baby shower cake. Here's what it will look like when you're done:
first step is always, bake the cake then frost it :)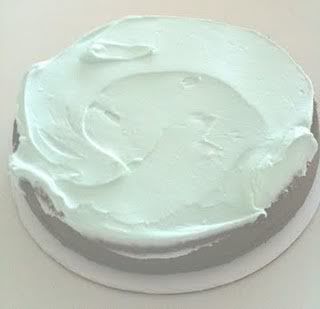 and if you're like me, sneak in some chocolate chips or candy in the middle layer :)
once you're done, your crumb coat should look like this (crumb coat = very thin layer of icing)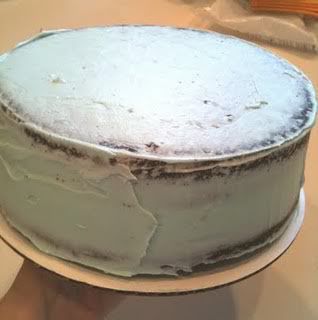 *pretend there's pictures of me covering the cake with white fondant here*
if you need to know how to do this, click on my air force cake tutorial
HERE
Next i wanted to border the cake with little waves (auntie to be sent me a pic of this on another cake), this was pretty easy to do as long as you have circle cutter...or even a shot glass would work. Roll out your fondant and cut it into a neat strip, then cut semi circles out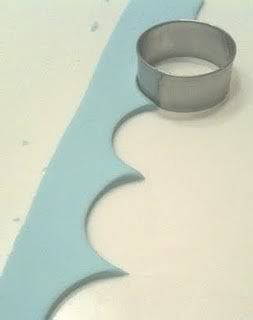 when you add the border to the cake it will look like this, pretty cute huh?
next up mini life savers...i didn't take pics of me making these bc i suck. Basically cut a disk out and cut a smaller disk out of the center and add little red squares...easy :)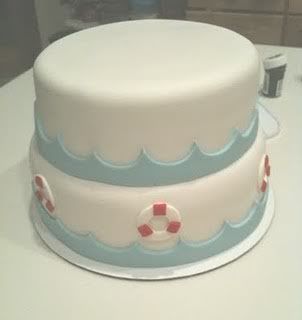 i made the cake topper the day before at
work
, i know i have the unfair advantage of making awesome metal cake toppers. (i've been thinking about opening an etsy shop with custom cookie cutter and cake toppers.......not convinced though since my life is already so freaking busy) Basically i drew my design on AutoCAD and the
waterjet
did the rest :)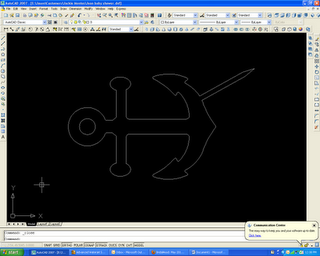 i sanded it down a little and washed it thoroughly, i painted it and waited a couple days to make sure it was super dry and no chemicals were still there, then i washed it thoroughly again.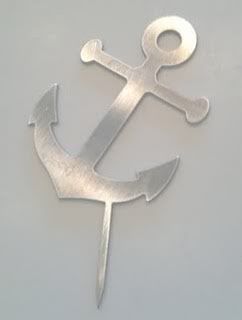 red and nautical-y :)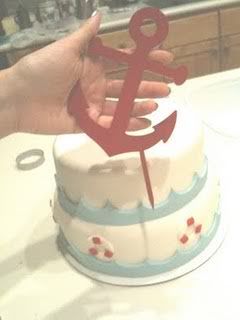 i added little disks with the baby's initials all around the top and made little matching cupcakes
there they all are neatly packaged into my box and ready to be transferred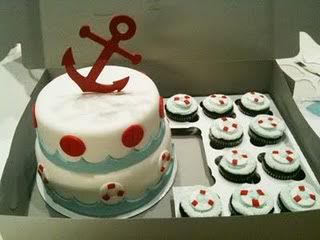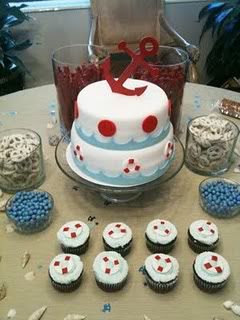 now that your hard work is done, have fun at the party :)
Thank you Jackie for sharing your great tutorial with the Zoo. Stop by
I Design
and show some Zoo love!