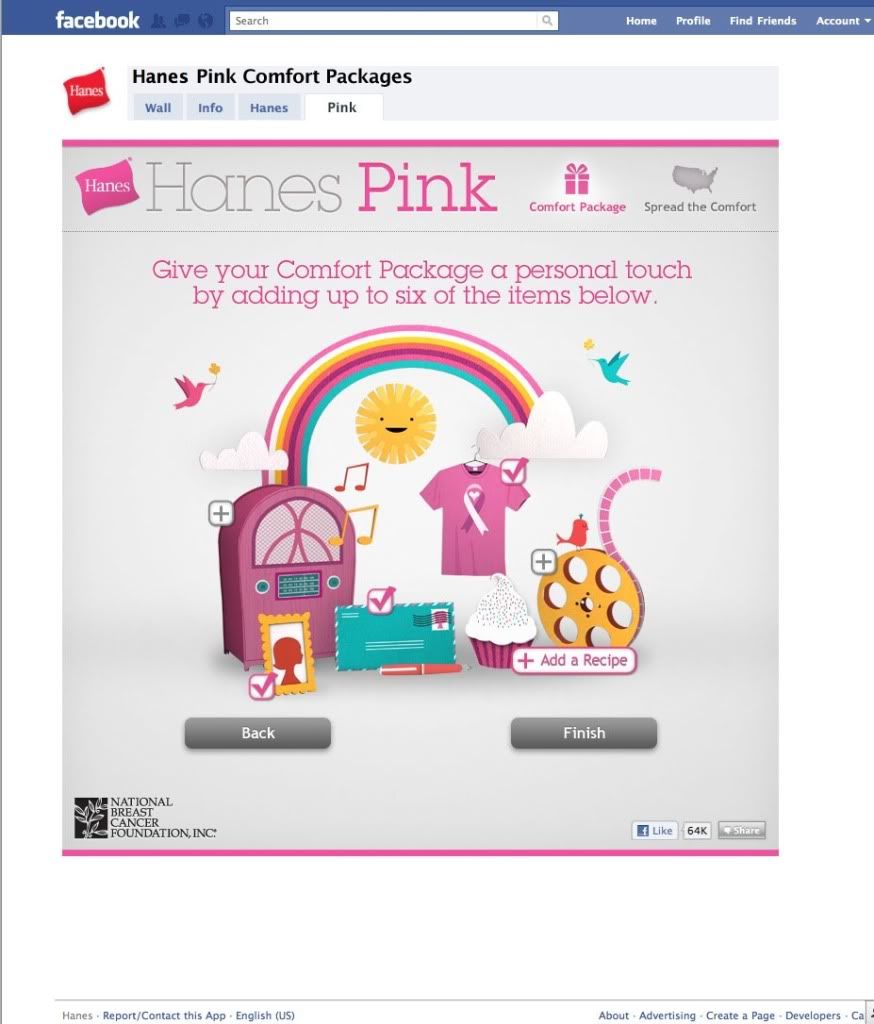 As most of you know already October is breast cancer awareness month!
Hanes has started the month with a brand new facebook app. This app lets fans make personal virtual comfort packages to send. You can check out the Hanes app here!
http://on.fb.me/HanesPink
.
Hanes will give $1.00 to National Breast Cancer Foundation , Inc.(up to $25,000) to promote early detection and mammograms for those in need for every virtual comfort package that is sent.
PRETTY COOL HANES way to give back !!
A virtual comfort package is easy to create. You can add a t-shirt, music, photos, videos, and notes with just a few easy clicks. Each selection is customizable too! A virtual package can brighten up someones day. You can send a package from the pink tab on the Hanes page. (
http://on.fb.me/HanesPink
.)
If you were creating a comfort package for someone special what would you like to have added into it?
I think the photos and video options are a nice touch from Hanes. If I was sending a real package not a virtual one I would have to have a soft blanket or comfy PJ's or big t-shirt and don't forget the chocolate! A favorite video and a hand written note are always special too. Hanes did a great job picking out comfort options.
Sometimes, it is just nice to know someone out there is thinking about you! What a special way to brighten someones day and easy way to help Breast Cancer !
So, what are you waiting on ? Head on over to
http://on.fb.me/HanesPink
and send friends and family a comfort package. Get them $1 donations started make Hanes Pay !!
DISCLOSURE:
As always please include proper disclosure and that all opinions stated in the post are your own. Here is an example you can use: I participated in this campaign as a member of One2One Network and am eligible for a prize drawing. All opinions stated in the post are my own.