GREENCHILD CREATIONS
makes natural skin care products, crafty items, and one size cloth fitting diapers.
Anne uses cotton flannel, cotton twill, and/or bamboo in her fitted diapers: each diaper is three layers of fabric with the third layer creating an inner pocket. With generous side flaps, super stretchy leg elastic, and an adjustable rise, this diaper will fit a range of sizes.
It may take a bit of experimenting to get the best fit on your child. To find out where the rise should be, lay the diaper under baby, and with their weight holding the diaper down, pull the front forward toward you and then up and over baby's abdomen. This stretches the leg elastic and gives baby a better fit. Once the right rise length is determined, remove the diaper and add any insert of your choosing for added absorbency if necessary. I find it easiest to stuff the insert of your choosing so the front end of the insert stops at the rise length, then fold the front flap down over it to the inside. You may fold the front flap however you choose for added absorbency.
Pins are needed for diaper closure; please specify if you need pins and I Anne include 2 pins free with your order! Snaps and aplix are now available; if you wish to add snaps or aplix to your diaper, please be sure to purchase the snap or aplix option.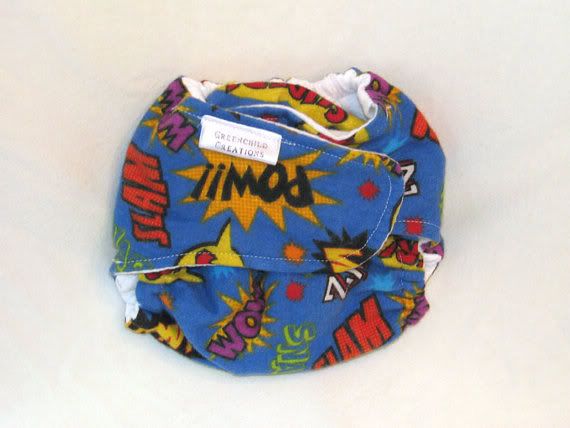 GreenChild Creations
is happy to do custom orders so if you are looking for a specific design or use a special material convo Anne.
REVIEW~
I love the softness of these diapers, the adorable print and the absorbency. I love that their is a large selection of prints to choose from!
These diapers come with safety pins. I must admit I am a horrible pinner. I pin my diapers woppy for some reason but they do work and what do they say practice makes perfect. I have a squirmer on my hands so he does not make diaper changing easy. His favorite thing is to jump up and take off and hide laughing all the while. He loves to make Mommy chase him. If you just don't care to try the pins you can order snaps no worries
GreenChild Creations
will be able to fix that right up for you. The Flannel Fitted Diapers also do need a water proof cover.
I don't use cloth 100% of the time I go back and forth. I should really be potty training my little Mr. but it seems like an impossible task. Another great thing about this diaper is it is very capable of fitting a multitude of different sized children. I really liked that! Plus these diapers LAST. You can use them now, you can save them for future children, you can use them for several growth spurts. If you are on the wagon about cloth diapering you might find this
post
helpful.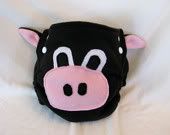 GreenChild Creations
also has some really adorable diaper covers.
Can't you just picture your babies booty with that little cow bottom?
I LOVE THESE!!!
Features an adjustable snapping waist and super stretchy leg elastic. Fleece outer, PUL inner. May be used with fitteds, prefolds, or inserts.
Each diaper cover animal design is free handed at the time of creation; like snowflakes there are no two exactly alike! :)
Holiday special ~ Get a free fitted flannel diaper with a $25 purchase or more visit on
Facebook
for Details.
WIN: One lucky Zoo follower will win 1 flannel fitted diaper from GREENCHILD CREATIONS! Just fill out the easy rafflecopter entry form below to be entered.
This contest has ended. Please visit our Winners Page.
Disclosure: I received 1 Flannet Fitted Cloth Diaper for this review. These are 100% my own opinions . Thank you GreenChild Creations for our review and giveway items.