Doodle Monkey Printables
is an Etsy Shop that creates custom party printables. Birthday parties, and showers make special memories. Why not go for one of a kind with special creative party printables? Doodle Monkey Printables sent us a pile of Dr.Seuss Artistry for our shower. (Thank Goodness) These printables saved me SO much work!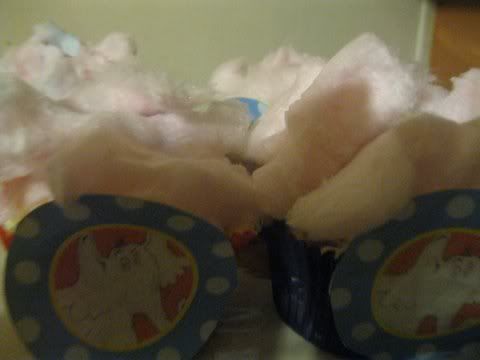 We received cupcake labels, quirky signs, and labels for our party. Doodle Monkey Printables added Baby Kyler's name to some pieces making them really much more special. What mommy doesn't like to see their soon to be babies name in print?
To the left would be our Horton Hears a Who cupcakes. Aren't they cute! (topped with pink cotton candy) We were also able to make Thing 1 and Thing 2 cupcakes and use some Doodle Monkey cupcake toppers. I just cut them and glued them to the cupcake wrapper. You can also add them to a Popsicle stick which I did in our green eggs and ham .
Mini candy bars were as cute as can be. The personalized wrappers were a big hit at the shower. Everyone loved these that had Kyler's name on them.
The pattern came in red and also it was reversed in bright blue. The cheery designs and bright colors are perfect for the at home party.
We also had really cool water bottle labels that matched the designs. These were also personalized with Kyler's name. That is a big Plus to me when talking about Doodle Monkey Printables. I really like to put names on things and make them feel more personal . With these printables you can pretty much have the desired name added to anything! I was 100% happy with the images I received they were just what I had been looking for.
Don't miss out next time you are planning a party drop in at
Doodle Monkey Printables.
You may just find the perfect accessories for your party , have them personalized and not brake the party budget doing so!
WIN: One lucky Living at the Whitehead's Zoo follower will win a
Just fill out the easy rafflecopter entry form below please.
This contest has closed. Check our Zoo Winners page to see who won.