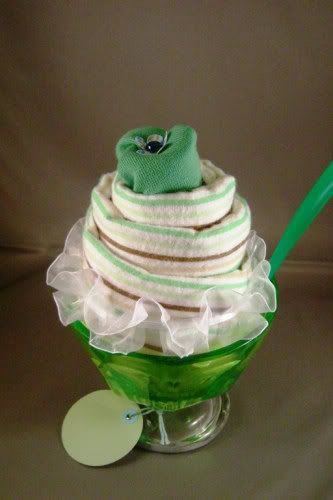 Bubbiecakes
makes treats out of baby onsies, socks, washcloths, and blankets. Items necessary when you have a baby but not always FUN. Gifts from Bubbiecakes definitely come with a sweet fun touch.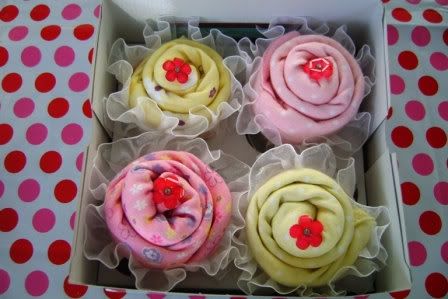 Cupcake Onsies
by Bubbiecakes~(arv $16-18)
ARE these not ADORABLE!! I love this great idea and think it makes a perfect shower gift or welcome home baby treat.
Each set of cupcakes comes in a cupcake box just as if ordered from the bakery. Sets vary but may include onsies, or wash cloths.
Cupcake
Onsie Sundae
by Bubbiecakes~ (arv $15)
This sundae is made fresh from scratch with 1 yellow Gerber burp cloth, 1 multicolor polka dot Gerber onesie 0-3 months, 1 baby spoon, 1 ice cream dish, and 1 gift tag. Practical baby essentials are always appreciated as a gift, but not always the best presented. This sundae is dressed up and disguised into a mouth watering treat bound to raise eyebrows when discovered it's just fabric!
Bubbiecakes
treats are the perfect small gift and will definitely get people talking when at showers . They are unique and fun gifts that provide essential items for the new baby as a treat. The Whitehead's Zoo really loved the treats received, and almost think they are just to cute to giveaway.
STOP by
Bubbiecakes
and mention you are visiting from the Zoo.
Disclosure: Living at the Whitehead's Zoo received a onsie sundae and also a set of onsie cupcakes in exchange for a review. These are 100/% my own opinions of these products. Thank You Bubbiecakes for our review outfit and giveaway item.