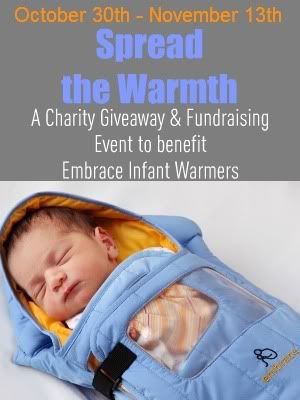 When I heard about this event and what it was for I knew right away I wanted to be a part of it.
My baby was born a premie at only 34 weeks. He could not regulate his own temperature yet and had to stay in an incubator under a warmer until he could do so. I can not imagine not having the medicine and equipment he needed. What should be the happiest time in ones life for some is a Preventable Tragedy!
WHAT IS SPREAD THE WARMTH?
Spread the warmth is going to be an awesome charity giveaway and fundraising event with all proceeds to be donated to Embrace Infant Warmers. The giveaway portion event will run October 30th – November 13th. To gain entry into the giveaway, people will donate in $5 increments. ($5 = 1 entry, $10 = 2 entries, $20 = 4 entries…)
From now until October 28th we will be accepting products for the giveaway. (We already have 2 fabulous companies who have already pledged donations for this amazing giveaway! Thank you ERGObaby and Paper Coterie
During the month of November Family and Life in Las Vegas and other bloggers like us here at Living at the Whitehead's Zoo will be offering charity ad space on our blogs with all proceeds going to Embrace Infant Warmer
Living at the Whitehead's Zoo is offering :
5 ad spaces for $20 each for the month of November. If you would like to buy an ad please do!
With each purchased Ad you will get a sponsor spotlight post!
With your $20 donation you will get your Companies logo or blog badge on my site for the month of November
If you would like to sponsor a giveaway for this event please contact myself or one of the other wonderful bloggers participating in this event. We would love to have you!!
Leave me a comment or message me at awhitehead357( at) gmail (dot) com
Help me spread the word and
Tweet
the following message ~
@aawhitehead Living at the Whitehead's Zoo is joining other bloggers to raise $$ for #SpreadTheWarmth 1 month ads for $20 all proceeds donated to Embrace Infant Warmers
http://ow.ly/6r9yX
Thanks Everyone Let's work together and Make a difference!