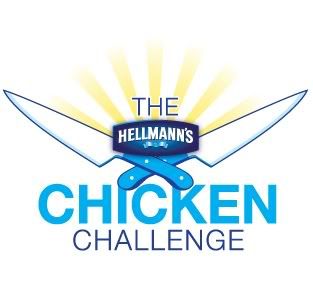 Hellmann's is on a mission to spice up your menu!
To help you spice-up your dinner routine, Hellmann's® and Best Foods® mayonnaise are launching the first-ever Chicken Challenge, a series of head-to-head chicken dish challenges that will help moms diversify their weekly recipe repertoire. Each week on
Hellmanns.com
, two chicken dish "challenger" recipes from Chipotle Lime Crusted Chicken to Baked Buffalo Chicken will go up against one of the most popular recipes on
Hellmanns.com
*, Parmesan Crusted Chicken. Try one of the featured Hellmann's® chicken recipes each week and cast your vote for your favorite.
On
Hellmanns.com
, you can also enter into a weekly sweepstakes for a chance to win one of four
$250 grocery gift cards
.** And if Hellmann's® receives more than
10,000 entries, the value of the grocery gift cards will double to $500!**
I don't know about you guys but this Mama could use some free groceries. Specially with the holidays around the corner.
My favorite recipe that uses Hellmann's and chicken is chicken salad. The Hellmann's makes it so creamy and tasty. Do you have a favorite recipe that uses both Hellmann's and chicken?
Visit Hellmanns.com and enter the weekly sweepstakes , try some yummy recipes, cast your vote and become a part of the Chicken Challenge!
"Disclosure: I was entered for a chance to win a Hellmann's® prize package in exchange for this post. No monetary exchange took place. All opinions are my own."