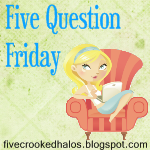 It's been a while since I participated in 5Q Friday.
1. S
hoes in the house -
yay
or nay?
2. W
hat do you call them- flip flops, slippers, thongs, etc?
Flip Flops are our all the time shoes around here
3.
What song are you almost
embarrassed
to admit you know all the lyrics to?
I seriously doubt I know all of the words to any song other than ABC's .
4.
What is the best quality to have in a friend?
TRUST a true friend you can share your secrets with . You can trust that if you get busy with life in a few weeks they will still be there and you will be able to continue your relationship just as before.
5. D
o you know what you want for Christmas?
Well I would like an ipad2 but that is not going to happen since my teens would also like one.