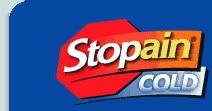 ABOUT this product:
Stopain®
is a line of topical analgesics that provide temporary relief of minor aches and pains of muscles and joints. Recommended by doctors and pharmacists for its immediate and long-lasting pain relief.
Stopain gel arrived at my door, and the family was like oh what's that for? I quickly explained to them that Mom and Dad are getting old ! We are definitely not spring chickens anymore. The list of aches and pains just gets longer day to day. Spent the day on the baseball field, the back the knees it all hurts. A day in the yard doing yard work you just want to be steam rolled (well maybe not quite that bad ) , but you get my drift. The older you get the more aches you have. Your joints and muscles just don't work like they did in your 20's. Can you remember when you thought 20 was old?
Stopain is available in four formulations: Stopain Spray, Stopain Extra Strength Spray, Stopain Extra Strength Roll on and the new Stopain Gel. All Stopain products provide temporary relief of minor aches and pains of muscles and joints associated with simple backache, arthritis, strains, bruises and sprains.
Stopain can be purchased at pharmacies and national chain stores so you should be able to locate it without any issue.
To learn more about Stopain you can always visit them at
http://www.stopain.com/
OUR REVIEW ~We tested out the gel. It didn't take either one of us long to find the need to test it out. I have something going on with my lower leg. It has been driving me crazy for days. I generally applied some Stopain and it did just that. The ache was relieved and I was able to relax and get some rest. Making me a new fan. It does have a scent so if scents bother you , you will not want to use it.
J has a lot of pain with his back. He said that the Stopain is a great product to help ease that tension in a pulled muscle. He recommends it for pain due to sports, and jogging.
Old folks that's us picture the Whitehead's sitting on the porch in their rocking chairs rubbing stopain on one another and drinking a soda.
Stopain Cold 2.5 ounce Gel
Contains 6% Menthol

Fast acting, long lasting pain relief

Light pleasant scent

Non greasy, non staining formula

Works on contact

Pharmacist recommended
Stopain gives back!! Stopain is a proceeds sponsor of the Arthritis Foundation. For every unit of stopain sold a portion of the proceeds is donated to the Arthritis foundation with a minimum contribution of $25,000. That is just AWESOME. My Dad has a terrible time with arthritis and has from a very young age. You hate to see your Dad in pain and I know that he struggles with it. This makes me like my Stopain even more so.
Don't forget Stopain is affordable! That is a big bonus for this family! A product we like and a price we can afford. That says it doesn't it?
WIN:
one of Living at the Whitehead's Zoo readers will win their very own bottle of Stopain Gel
I was provided with one bottle of Stopain Gel for review. NO other compensation was received for this review and these are my honest opinions of this product.
Thank you for our review and giveaway items!

This Giveaway is now closed. Congratulations to the Winner Ann Cluck.