I have teenagers and funny Tee's are a big part of their every day wardrobe. They love something a little bit different yet comfortable that they can wear with a pair of jeans.
SnorgTee's
has a huge selection of funny and graphic tees. You are sure to find something that will fit your taste if you stop by and have a look.
SnorgTees got its start back in May 2004 when our group of friends decided that we weren't meant for a real job. We got our options narrowed down to international jewel thieves or Internet t-shirt tycoons. Since it was the middle of the summer, we weren't able to find enough ski masks, which left t-shirts as our only option. Fast forward a few years and we've grown to the point where people mistake us for an actual business. We've even shipped a shirt to NASA. That means space. So technically we're a universal company. But we are still just a group of friends who run Snorg because we enjoy it.
Here at Snorg, we specialize in pop-culture inspired, random, and all around funny t-shirt designs. Most of the designs on our site are SnorgTees employee creations. But while we think of about 72% of what goes up on the site, 28% of the awesome design ideas come from you, our customers. So if you think you've got a great idea, send it our way.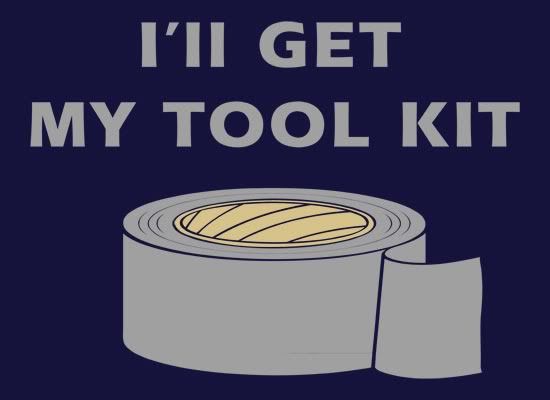 We received the I'll get my tool kit shirt for review. If you know this family you know this is a fitting shirt for us. I once used duct tape in our Christmas Card Photo, and we use it for everything. The lucky owner of this shirt is my daughter (15 today), and it was in her first week of school wardrobe . So, it must be a hit. If you have a teenage girl you know what I mean.
The shirt is a nice cotton material and washes well. Check out the huge variety Snorg has stop by
http://www.snorgtees.com/t-shirts
.
Win:
One Lucky Living at the Whitehead's Zoo Winner will have the chance to win a SnorgTee. Just fill out the rafflecopter form below.
This giveaway has closed. Congrats to the winner
kristen fritsche!
Thank You for Entering and Good Luck Everyone.
Thank You SnorgTees for providing me with one Tee for review and one Tee to our winner of this giveaway.