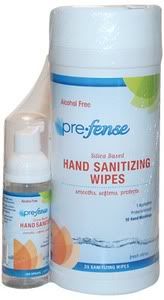 JUST in time for back to school shopping PREFENSE has come out with a combo pack! Hand Sanitizing wipes and a 1.5 oz. bottle of hand sanitizer! Yeah, those of you who check out YOUR Golden Ticket Blog know that we recently did a review and giveaway for Prefense. You can read that review here .
FANTASTIC things I learned about Prefense:
Prefense protects for 24 hours or through 10 hand washes -- one spray lasts all day! (perfect for school agers!)
Prefense kills germs other hand sanitizers can't -- and all without alcohol!
I love that Prefense is an alcohol free product which makes it safer to use on a child. When you are buying for your childs class room I think this is important to remember.
The combo pack is priced great Buy one Get One for a Buck (or $7.99) with that price it may not last long so stop by www.prefense.com/products and order your pack NOW.