C needed something to keep him busy , away from a TV and freshly engaged for a bit. Not to mention INSIDE with the air on high. Boy is it hot. I through together this activity in our sand / water table. It worked well.
.As you can see it is an assortment of this and that.
It did the trick and kept him engaged and playing for a bit.
What's in our Bin?
poms poms

2 different pastas, ziti tubed pasta and rotini multi grain to add some color

Styrofoam circle

straws

feathers

various containers (bowls, Parmesan cheese shaker, koolaid container)

egg carton

pipe cleaners

tongs, can holder,

plastic rings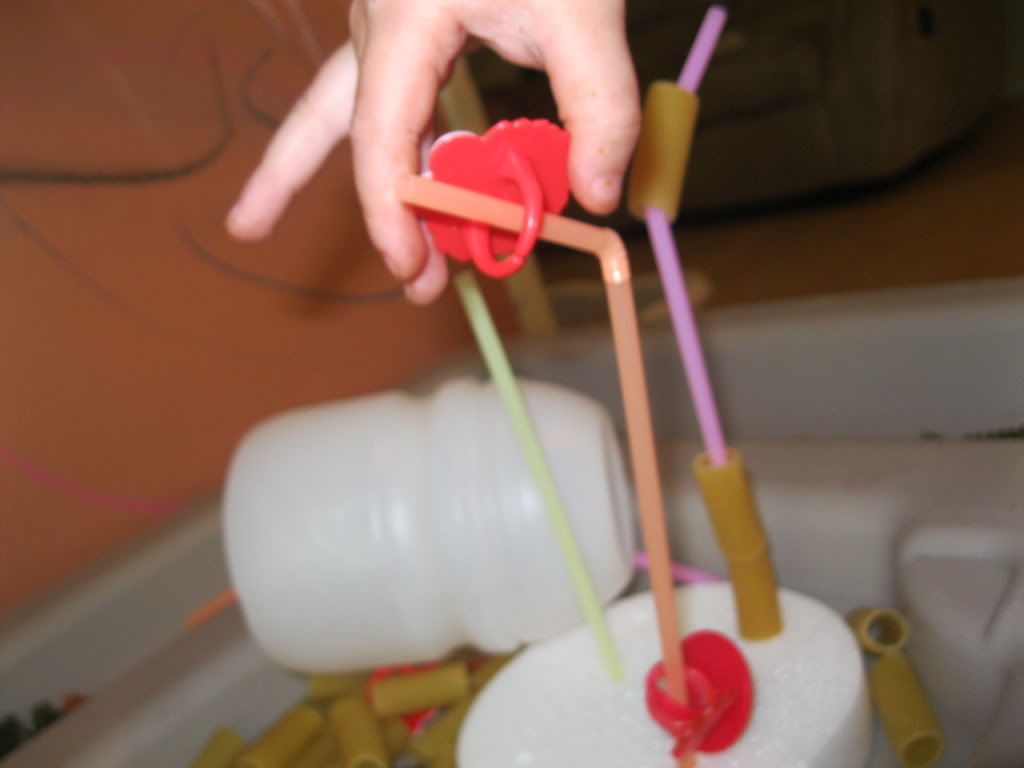 Things we did
sorted pom poms and objects into the egg carton

scooped, and grabbed and placed objects in the container

put pasta in shaker and containers and shook them to hear the sound

put tube pasta on straws

removed the straws and tried feathers stuck them in the Styrofoam

threading the rings onto the straws and feathers (he liked the rings better than the pasta they were easier)

stuck pipe cleaners in the Parmesan can

made a pasta bracelet (with moms help threading pasta on pipe cleaner and tying it)

looked for shapes and colors

counted objects
Lots of learning and creativity went on with this little bin and it took me about 10 minutes to throw it together.
We also made a sensory balloon. C got really mad at me. I filled the balloon with rice. He was really aggravated that the balloon was heavier and didn't float. He would throw it and drop it.
Linking up at ~