A remarkable account of miracles , angels, and life beyond this world
A True Story
By Kevin and Alex Malarkey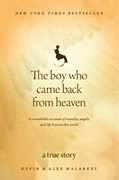 A boy who came back from heaven is a touching store about one tough little boy and the battle the Malarkey family faces after a horrific car accident. I crazily took this along to read on our road trip. So, here we are traveling on vacation and I am boohooing in the back seat .
Kevin and his 6 year old son Alex are in a horrible car accident. Everyone says Alex will not survive. His injuries are too bad, he is in a coma. After two LONG months Alex comes out of the coma and begins another battle. The battle of recovery. Bless his sweet little heart he must learn to speak again . He has so many struggles ahead. When he is able to communicate with his family again he tells them things about the accident that their is no way he can know. He tells them he has been to heaven. He tells about angels and how he is not ever afraid because he is with Jesus.
A heartfelt story that reminds you of the power of prayer, the power of community, friendship and family. The Malarkey family faced so many challenges families face when in despair. Financial woes, marital struggles, spiritual questions, heartache and more.

I did wonder if this story has been told 100% accurately. The vocabulary for such a small little boy who has gone through so much is remarkable. I was also a little bit surprised when the family changed churches in the midst of a crisis. Yet, I know everyone deals with grief, tragedy and life in different ways. I am choosing to believe in the story and not my skepticisim.
I give
this book a 3 out of 5 star rating. It is a moving story that will definitely stir your heart and your faith.
About the Authors :
Kevin Malarkey is a Christian therapist with a counseling practice in Columbus , Ohio. He is a father of four .
Alex Malarkey is a the 12 year old boy who lived through this ordeal. He is the first child in the world to have received the "Christopher Reeve surgery" allowing him to breathe without a ventilator. Alex believes he will walk one day and continues to work towards that goal.
Do you want to find out more about The Boy Who Came Back From Heaven? You can find more information here.
"When I arrive in heaven the same five angels who removed my Daddy out of the car were there. They comforted me."
-Alex Malarkey


Tynsdale House Publishers provided me with a complimentary copy of The boy who came back from heaven for review.
Thank You Tynsdale House Publishers.