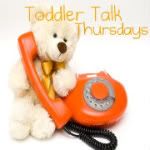 This Week's Topic: How are you keeping your toddler busy this summer?
Our entire schedule changes for summer. The big kids are home! That is an adventure all in its own for my little one. He loves having his big sister and big brother home. They can play with him all day long right? Of course they have there own plans, but he does get a LOT of play time from them which is extra nice for me.
Here are a few of the ways we are filling our days ~
*bowling once a week taking advantage of those free summer passes
*hanging out the pool daily
*water table activities, adding ice cubes with toys , shaving cream,
*home made window paint and painting the windows
*lots of time for baseball and golf
*the sprinkler
C loves to bowl. If you have not tried it with your toddler it is a lot of fun. They roll the ball down a little ramp thing. Plus they have rails , to prevent gutter balls.
Link Up Suggestions:
1. We ask that you follow all three hosts.
Family and Life in Las Vegas, Crazy about my Baybah, and My Life as a Sippy Cup Mom
That way you can keep up to date on future Toddler Talks.
2. Please grab the Toddler Talk Button and display it in your post or on your blog.
3. Stop in to other blogs that are linking up.
Leave a meaningful comment if you visit, and follow if you would like.
4. If you want to post the link up on your blog – please do! Maybe we can draw in more people to participate and share tips!!
** If you want to follow this on twitter – or plan on tweeting your post – please use hashtag: #letstalktoddler **
get the InLinkz code