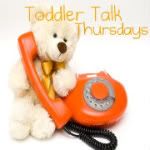 Toddler Talk Thursday
"What is your toddler's Catch Phrase?
C's Catch Phrase would be hurry hurry I'll show you.
He is such a little turkey everything is in a hurry with this one.
He also says , "Don't Worry"
If he's hurt or if he is getting in to trouble he will say "don't worry"
My next topic suggestion would be :
How do you teach your toddler to share?
I know that I have suggested that one before, but after a play date and LOTS of tantrums from my child I'm thinking we need sharing classes or something GEESH. I'm so glad C's friend is a good sport and understands sharing a little better. He's a meanie I would not want to play with him on the play ground.
Link Up Suggestions:
1. We ask that you follow all three hosts.
Family and Life in Las Vegas

,

Crazy about my Baybah

, and

My Life as a Sippy Cup Mom
That way you can keep up to date on future Toddler Talks.
2. Please grab the Toddler Talk Button and display it in your post or on your blog.
3. Stop in to other blogs that are linking up.
Leave a meaningful comment if you visit, and follow if you would like.
4. If you want to post the link up on your blog – please do! Maybe we can draw in more people to participate and share tips!!
get the InLinkz code
** If you want to follow this on twitter – or plan on tweeting your post – please use hashtag: #letstalktoddler **