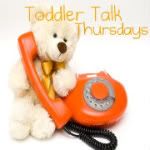 ** If you want to follow this on twitter – or plan on tweeting your post – please use hashtag: #letstalktoddler **
"Traveling With A Toddler"
Being a Mom of two older very active teens . I don't think my toddler ever had the option to NOT be travel. We have been on the go since he came home. His first weekend baseball tournament when he was only a couple of months old. I always seem to pack the kitchen sink even when I am trying to go light. We look like the Beverly Hillbilly's going on vacation . Seriously! I am sure I drive my husband insane. I pack blankets, pillows, snacks, clothing, toys, play pen, portable swing and highchair. Those are some of the things I packed when he was little.
I am lucky with this child if he has a ball and baseball glove/bat he is thrilled so I can pack light as far as the toys go. Really, I'm sure you will all say it depends on the trip what I need. If it is the beach I'm going to pile beach toys, shovels, pails, floats high. If it is the ball field I grab a ball and bat whatever fits the occasion.
For the car ride we have the DVD player and he will watch TV. I use to play Your Baby Can Read when he was little , but finally the last of the DVDs has gotten scratched . Now, he loves Chuggington. So, that is our go to movie. I also pack a bag with his etch a sketch, magna doodle, crayons , coloring book, books and a few of his cars. We play games on the way. The big kids are a huge help. They will let him tinker with their electronics, and he feels big just like they are. I look forward to reading your answers . Lastly, we use REDBOX which is fabulous for both my toddler and my big kids. They can pack a pile of movies at a $1 each for the road, and turn them in as we stop for others. Works great!
TOPIC SUGGESTION: What kind of creative lunches do you feed your toddler?
Link Up Suggestions:
1. We ask that you follow all three hosts.
Family and Life in Las Vegas
,
Crazy about my Baybah
, and
My Life as a Sippy Cup Mom
That way you can keep up to date on future Toddler Talks.
2. Please grab the Toddler Talk Button and display it in your post or on your blog.
3. Stop in to other blogs that are linking up.
Leave a meaningful comment if you visit, and follow if you would like.
4. If you want to post the link up on your blog – please do! Maybe we can draw in more people to participate and share tips!!
get the InLinkz code