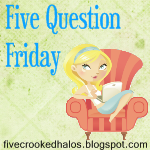 1. W
hat is your favorite summer time activity?
2.
Do you have one laundry soap you stick to, or do you buy whatever's on sale?
3.
What is your favorite dinner to make in the summer?
4.
Do you have any talents?
5. If you could instantly be an expert in something, what would it be? Why?
My favorite summer time activity is going to the beach and just spending the extra free time with my kids.
I do not have one laundry soap I stick with. I LOVE snagging a freebie or a good deal.
My favorite dinner is to hand the cooking over to my husband and let him grill.
Do I have any talents? Seriously, this makes me laugh. I am sure every single person has some kind of talent whether they know it or not. I have an absolute talent for messing things up. Ha. In all seriousness I have no idea what I would say my talents are. I have passions for many many things. Do I have talent in them well that is all in the eye of the beholder right?
I would like to be an expert in photography. I love playing around with photos and seeing what I can come up with.
RULES for 5Q are pretty simple. Copy /Paste the above 5 questions , LInk uP, and Have FUN!
Don't forget your Woot Woot here comes the weekend.