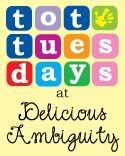 I recently posted about some great ideas for toddler play and
water walls
& other creative projects I had found while blog hopping. Here we are playing in the heat with our own little water wall construction. C had a great time and definitely had favorite containers to use. We have a chain link fence , so there was no screws or bolts. I actually recycled rope from a leftover yard sale toy and used the rope to tie the containers on the fence. Then we used a couple of 2 liter bottles, an old milk container, an old butter container and a few others.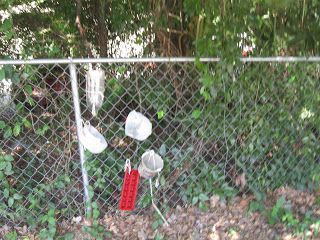 Don't forget to stop by and enter our giveaways.
Aerobe Sprint Ring *Ends 5-4
Flightless Goose Book Ends 5-10
What do you think? Will you build a water wall of your own or do you have an even better idea? Can't wait to read your comments. Have a Great Tuesday!