I decided to let C have some cooking fun. I had seen this on several blogs recently and wanted to give it a try.
I set up his small table in the middle of the kitchen. I began to get things ready for him , but once he realized what I was doing he just could not wait. He was shaking, and stirring and dumping on my floor (be prepared for a mess If you have a kid like mine anyway) before I even got it all out.
I gave him oatmeal, cornmeal, flour, baking soda, in bowls. Colored sugar and salt in shakers, and popcorn butter seasoning. Vinegar in a squeeze bottle. A cup of water , spoons and some empty bowls.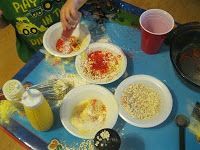 Messy Play
Here is what happened:
I imgained him loving the reaction of the vinegar and soda . He could have cared less. Right away he dumped all of the water into one bowl and that was that. He did enjoy mixing and stirring and gooping stuff together. His favorites were the different shakers. The only problem I had with this activity is that he had a hard time staying in one place. For some reason thim shakers made him want to run and shake butter seasoning and salt all over my house. Which was a NO NO.
I told you he liked pouring stuff out on the floor.
He had a really good time with the activity though, and I think I will do it again sometime. Have you done this one before?
What did you give your child in their " play kitchen"?
Sorry for the missing photos they accidentally got deleted. We're going to have to do a redo.